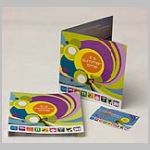 Profile


colors graphic solution
COLORS is a small concept made of people in love with creativity.

....Read more...


Profile


Graphic freelance with over 10 years of experience

....Read more...


Profile


2004, Istituto Europeo di Design (IED) Illustrazione ed animazione multimediale concluso nel 2007.
2008, selezionata dall'Ars in Fabula associazione, per frequentare il Master in Illustrazione per l'editoria presso l'Accademia di Belle Arti di Macerata.
PC Academy di Roma corso di grafica e

....Read more...